please [email protected]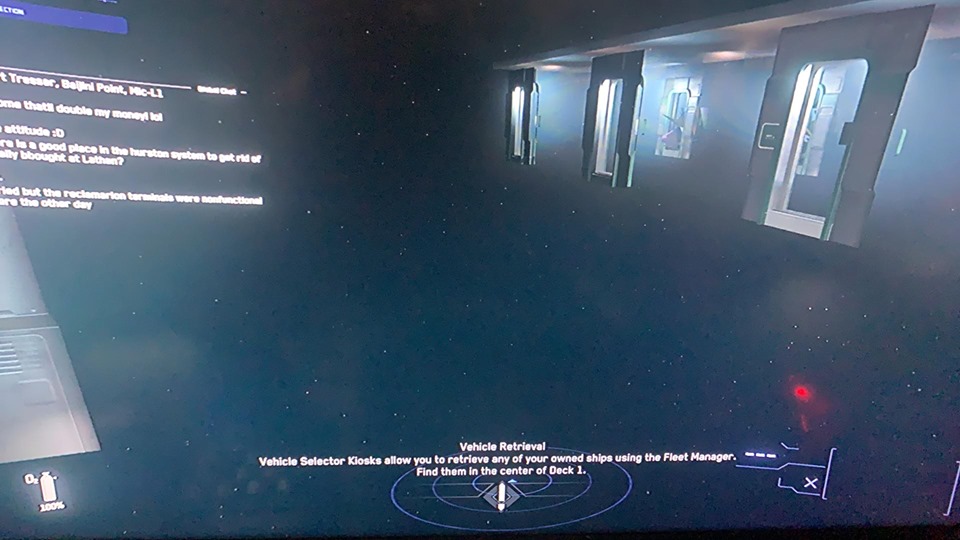 !
Hi Sir_Deimos,
Have you tried logging out / in of the launcher, verifying files and/or changing character sex?
I've not seen that before but those seem to fix a lot of issues and are worth a shot before trying a character reset.
delete your user folder than verify the files.
Check the driver's for you'r GPU
If that does not work, try a reset after you delete your user file. And lastly, reinstall the game. Although most likely, it is the user folder. That has caused me the most pain in 3.9x, Some times I have to delete my user folder and rebuild my HOTAS profile.
my drivers are up to date and i have reinstalled this game like 50 times
Have you tried doing a character reset?

I had my game on an external hard drive. Long load times. New Babbage and Loreville would hardly load in for me, similar to the image. I got it on an SSD and it loads fine. Hope that helps.
Yes, you definitely need to play the game on an SSD. Even an internal hard drive reduces performance.
@Sir_Deimos can you please provide cpu/gpu/ram for your current setup?
CPU: AMD Ryzen threadripper 1900x 8-core processor 3.80 ghz
Gpu:2x Radeon RX 580 crossfired linked
Ram:G.SKILL TridentZ RGB Series 16GB (2 x 8GB) 288-Pin DDR4 SDRAM DDR4 3200 (PC4 25600) Intel XMP 2.0 Desktop Memory Model F4-3200C16D-16GTZR
@Sir_Deimos well, I think we might have found your issue…
Your RX580 might not have enough video memory, and 16GB of ram isn't enough unless you close everything except for mumble and the game.
Either way between the cpu, ram and video card this system is very under powered.
I have 32 gb of ram and 16gb of video mem.
Hi @Sir_Deimos,
If you have not tried this already. Try to run all graphical settings in potato mode (or as low detailed as possible with low resolution.
Also, I see that you are running 2x Radeon RX 580 in Crossfire. Perhaps that could be the cause of the problems. Have you tried disabling the crossfire for Star Citizen or just running on a single graphics card for the game?
Reddit users report big problems with Crossfire profile for star citizen. Granted that the post is outdated and old (it was posted 3 years ago) but perhaps following the advice they gave then can be of help now.
You can also try to go through Star Citizen troubleshooting guide for graphical issues. https://support.robertsspaceindustries.com/hc/en-us/articles/360000081887-Guide-to-Graphic-Issues
So you have 8GB versions of the RX580? Even still it's 35-40% slower than a gtx1070 on SC… The video card, crossfire, drivers, or something else is most likely where the problem is.
ASRock X399 Phantom Gaming 6 sTR4 AMD X399 SATA 6Gb/s ATX AMD Motherboard
what video card do u recommend with this motherboard?
Using the current public telemetry, here is what I see.
1920x (I can't find stats for the 1900x but the 1920x is basically the same) with an RX580 is pulling 31.7 fps on average.
A 1920x with a GTX1080Ti is averaging 45.5 fps, a RTX2080 Super would be a good drop in replacement today.
The better question to ask yourself today is do you really want to drop $700 on a video card for a 3 year old system? What is your normal upgrade cycle?
The 8700K and GTX1070 released around the same time as the 1900X and RX580 is ~45-50% faster for about the same cost. And in Star Citizen that system would be getting 43fps today instead of 32fps.
Today, we still recommend Intel CPU's for gaming, the single core speed seems to have a major impact on FPS. While AMD makes great CPU's and in uses other than gaming they make a lot of sense, they just can't compete against Intel in the gaming space.
The only company you should consider buying a GPU from is Nvidia, there just isn't any competition in that space today.
Especially since NVIDIA purchased all of 3DFX assets (short term expired advantage), liquidated 3DFX, and hired their best talent (long term and current advantage). 3DFX was the leader in video technology, they just sucked at finances which allowed Nvidia to purchase them, take, and sustain the lead.
I understand that chart makes it look like AMD CPU's are better, but for gaming often times single core speed is the bottle neck, Star Citizen is one of those games.
Intel still has much better single core or single thread performance than AMD CPU's.