I noticed in my first interactions with Lorville in 3.13 that the game had become more likely to freeze and crash. I've studied it a little bit with the Task Manager performance graphs and have noticed the following:
Starting from a base usage of 4G, the game loads 3G more by menus.

Loading in Lorville takes that to 15G or above.

At some point, the game will go over my 16G installed and start using my SSD as a cache. When this happens, the game will lag hard or even freeze while it copies the assets over. I can only imagine how much worse the problem is for those that do not have the quick seeks of an SSD.

Thereafter, the game will manage RAM to a max of 14G, apparently managing swaps of files to disk. Large changes in environment, like respawning in Lorville, will cause huge, short disk spikes.
In the end, if I read the displayed info right, the game demands at least 21G of RAM. On top of the 4 or so by latent processes, this means that 25G is required by the game to avoid lags caused by storing assets on disk.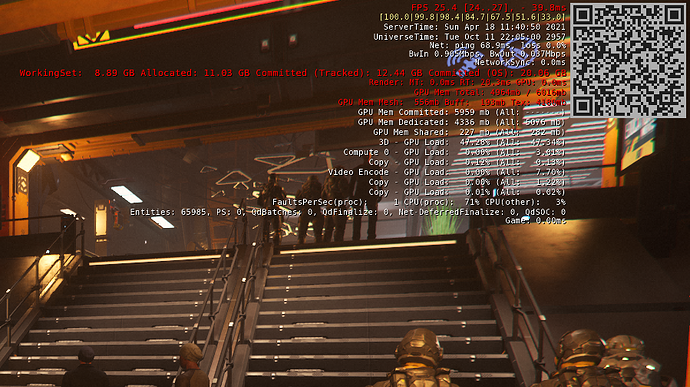 I should mention this is at the top graphics setting.